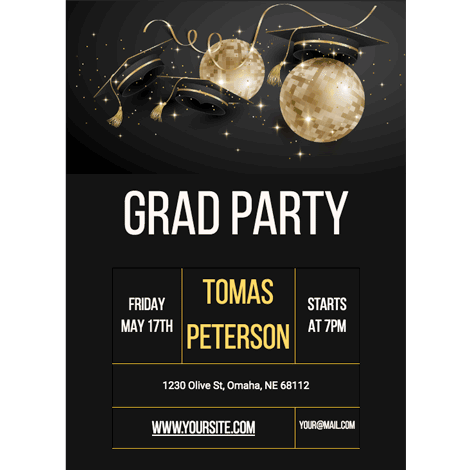 Introducing our Disco Ball Graduation Party Invite Google Doc template, the ultimate choice for throwing a groovy and memorable graduation celebration. This template is specifically designed to bring the funky vibes of a disco ball into your invitation, creating an exciting atmosphere that reflects the graduate's accomplishments in style.

With its user-friendly interface and customizable features, our Google Doc template allows you to effortlessly personalize your invitations with text, photos, and details, transforming them into dazzling disco-inspired masterpieces. The design showcases a vibrant disco ball motif, symbolizing celebration, joy, and the spirit of dance, making it the perfect choice for any graduate who loves to boogie.

The template offers a wide range of font styles, color schemes, and formatting options, allowing you to tailor the invitation to match your unique party theme. You can easily customize the details such as the graduate's name, venue, date, and time, ensuring that your guests receive all the essential information in a visually stunning format.

Forget about starting from scratch and let our Disco Ball Graduation Party Invite Google Doc template save you time and effort. Whether you're hosting an intimate gathering or a full-blown dance party, this template will help you set the mood for an unforgettable graduation celebration.

Embrace the disco fever and create a party atmosphere that will have your guests dancing the night away. Download our Disco Ball Graduation Party Invite Google Doc template today and get ready to groove your way to an extraordinary graduation celebration that will be remembered for years to come.