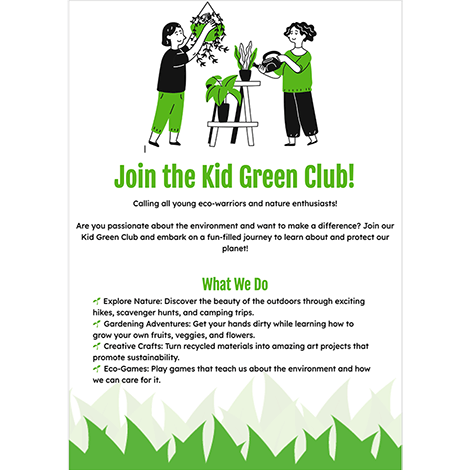 Spark young minds to become Earth's superheroes with our captivating Google Doc flyer template for the "Kid Green Club!" Specifically crafted for the environmental champions of tomorrow, this template offers a vibrant and playful design that instantly captures the essence of youthful energy merged with a powerful eco-conscious message.

Upon first glance, children and parents alike are greeted by cheerful graphics of our planet, green leaves, and tiny eco-warriors ready to save the day. Each element on the flyer not only informs but inspires, ensuring that every child feels the call to action to make a tangible difference for Mother Earth.

Beyond the engaging visuals, the template provides sections for event details, fun eco-challenges, and club benefits. We've taken care to balance information with imagination, ensuring that children are educated on pressing environmental issues while remaining optimistic and empowered.

Ideal for schools, community centers, and local events, this flyer design effortlessly brings to life the mission of the Kid Green Club. Empower the next generation to protect our planet – one eco-adventure at a time!