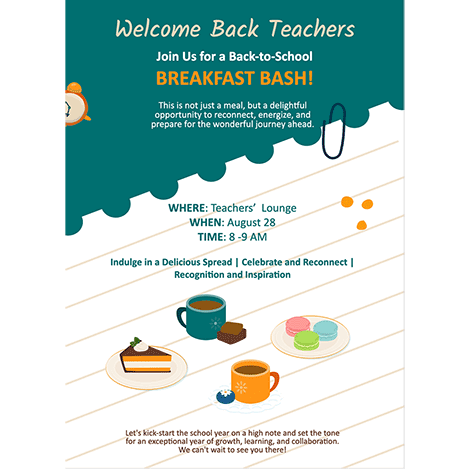 Dive into a fresh academic year with our vibrant and engaging Welcome Back Teachers Breakfast Bash Google Doc template, ideal for schools and institutions planning to roll out the red carpet for their returning teachers. Crafted to embody camaraderie, appreciation, and the thrill of new beginnings, this template is a must-have for school principals, PTA members, or any dedicated colleague wanting to make a memorable impression.

Our design allows you to seamlessly integrate your school's unique brand and voice by editing text, colors, and images. The high-quality graphics and theme-specific icons, ranging from breakfast delights to academic symbols, not only make your flyer visually appealing but also resonate with the theme. We've also infused the template with sample content, which you can easily replace with your event details or draw inspiration from.

One of the standout attributes of our flyer is its print readiness, ensuring that whether you're looking to share it digitally or in its physical form, the output remains impressive. Furthermore, the design's clarity and legibility shine through even on mobile devices, ensuring that every teacher, irrespective of their tech-savviness, can access and appreciate your invite.

In essence, as teachers gear up for another pivotal year of enlightening young minds, our flyer acts as a heartwarming prelude to all the incredible memories yet to be made. Celebrate the educators in your community with a touch of style and sentiment, and set the tone for an unforgettable year.