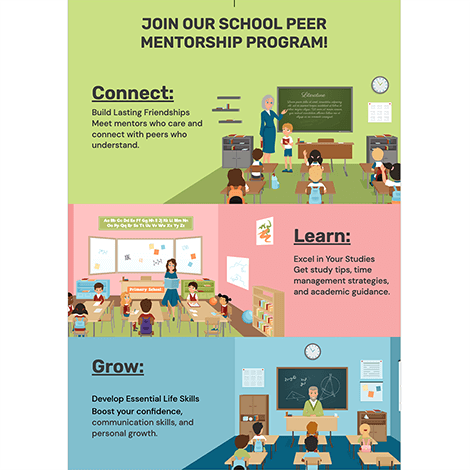 Illuminate the path to academic and personal growth with our vibrant Google Doc flyer template promoting the School Peer Mentorship program! Drenched in bright and effervescent hues, this flyer is designed to instantly capture attention and convey the joy and camaraderie of student-to-student mentorship.

At the heart of the design are whimsical cartoons of children, rendered with meticulous detail, in dynamic classroom settings. These lively illustrations depict the essence of mentorship – older students lending a hand, guiding younger peers, and showcasing the symbiotic relationship where both parties benefit.

Strategically placed next to these illustrations are the three pillars of the program: "Connect," "Learn," and "Grow." These bold keywords stand as powerful reminders of the program's core objectives:

Connect: Forge meaningful bonds and establish lasting friendships.
Learn: Exchange knowledge, skills, and insights for holistic academic growth.
Grow: Evolve together as better students and compassionate individuals.
The template offers ample space to customize details about the program, sign-up instructions, and testimonials. Whether you're a school administrator or a student leader, this flyer is your ticket to rally enthusiastic participants and create a thriving mentorship culture in your institution. Dive in and let the colors of mentorship shine bright!